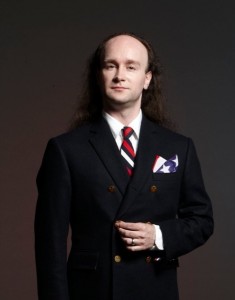 Writer/Actor/ Game Designer/ Theater Critic
You can find all of my latest writing compiled at my WordPress Blog.
As a playwright I am known for The Astonishing Adventures of All American Girl & The Scarlet Skunk, a comedy about masked crimefighters in the 1940′s,  sTopless Go-Go Girls at the Troll Hole, a farce about S&M, and the post-apocalyptic romantic comedy That Cute Radioactive Couple.
I also write the bi-weekly Fallout Lore webseries for Shoddycast.
I am the creator of Theater For Nerds, the only website dedicated to nerdy theater, and I have freelanced for several other theatrical publications and websites.
I have written video game reviews and feature articles for publications and websites including Complex, Joystiq and Explosion.

I founded Press XY, an organization that presents talks and panels on transgender issues in video games.
YOU JUST MISSED
My new play The Astonishing Adventures of All American Girl & The Scarlet Skunk ran in the Brick Theater's Comic Book Theater Festival! See our press coverage here.
On June 14th I moderated a panel on transgender comic book characters at New York Comic Con's Special Edition NYC. Listen to a podcast of Secret Identities: Transgender Themes in Comic Books on AmberUnmasked.com 
Another article about my panel at Special Edition NYC. "By far my favorite panel" - Comics Nexus
The new episode of the Fallout Lore webseries written by me is up. This one uses the phrase "A miracle of ballistic zoology!"
I performed at the Brooklyn Botanic Garden's Sakura Matsuri cherry blossom festival. I hosted "The Battersby Show" on both days, and modeled in the Cosplay Fashion Show, and the Parasol Society Fashion Show.
My play That Cute Radioactive Couple had a reading at the Penny Arcade Expo in Boston on April 11th.
Press XY presented a new panel at the Penny Arcade Expo East.