I am currently writing a humorous fantasy RPG for Choice of Games. More information coming soon!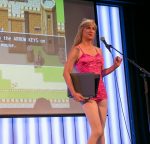 I competed in the 2018 Miss Subways pageant! For the pageant, my talent was Video Game Design. I made a 5 minute demo of a game. You can play it for free right in your browser. HERE.
Fallout: Brotherhood: I wrote most of the dialog and Narrative Design for this Fallout 4 mod by Shoddycast. It features voicework by Mark Meer (Commander Shepard from "Mass Effect"). Here's a trailer (Email me for a video of the playable mod in action):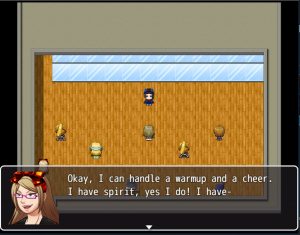 Charli's Cheer Challenge is a short game about a newbie cheerleader trying to join the squad. Help Charli train her cheerleading skills before the tryouts. Your decisions will determine if she has what it takes to become a cheerleader! Made with RPGMaker MV. Click HERE to play it for free, right on your browser.
Fallout 4: Wasteland Codex: I wrote the upcoming "Bost-Apocalytic Walking Tour" mission for this mod, as well as several of the codex entries. Download it here.
Fallout New Vegas, Storyteller Companion Mod: I co-created the characters of Storyteller and his robot pal, ED-Na. This mod uses lots of my narrative and dialog. Download it here.


Missions for City Of Heroes using the "Mission Architect". Devised a system that allowed player choice to affect the outcome of the mission. The game is no longer online, but you can see some screenshots of "Ivan and the Thirteen Princesses", "Justice Sandwich" and "Verminator's Fancy Plans".

I also wrote and level-designed the "Neverwinter Nights" module "Buggery", a 15-minute, humorous adventure set in a village overrun by a swarm of giant insects. Unravel the mysteries and intrigues of the village of Omala, and choose whether or not to save the town.  You will need a copy of Neverwinter Nights to play this.  Available HERE.

Back when it was still a hot game, I designed a series of custom gametypes and maps for Halo 3. They can be seen HERE, and played if you have a copy of Halo 3 and a Bungie.com account.